"100% increase in revenue over two years"
Tandberg was a hot growth company that reached a billion dollars in real annual revenue and was acquired by Cisco for over $3 billion. Frost & Sullivan recognized one of our methods in a Best Practice Guidebook called "Building a Customer-Centric Business Model".
This was a few years before Aileen Lee coined the term "unicorn" for companies valued at $1 billion, but the lesson in how we grew the company is strikingly relevant today.
Speeds and Feeds
Like most technology companies, Tandberg sold to IT and A/V (audio/visual) buyers within organizations. We promoted technical superiority and the detailed technical features – the 'speeds and feeds' – of video conferencing systems.
IT is responsible for purchasing and installation of video conferencing systems. But ultimately video conferencing is not used by the IT team, it is used by the business employees of an organization.
Slow Growth
That makes for slow growth when you are pitching the technical value of video conferencing to IT teams. It was a "push" model… we were pushing our product through IT to the end user. End users, like the head of marketing and their team, do not understand or care about the speeds and feeds.
Expanding to Line of Business Buyers
Employees care about what will make them more successful in their roles. We were not delivering that message to the IT buyer, and they were not delivering it to the end users, their stakeholders. We needed a "pull" model…with employees seeing the value of video conferencing to achieving their business goals and requesting more video equipment from their IT buyers.
For example, one customer had 'innovation' as a priority corporate goal. Business managers promoting news ways to improve innovation were rewarded. Video conferencing was positioned as a critical tool for fueling innovation. The customer created huddle rooms that included video conferencing.
Pull: Three User Profiles
We identified three end user groups within a typical organization to target. The Frost Best Practice Guidebook details the process we used.
Executive Experiencers: C-level executives that have critical needs, and who require technology that works perfectly every time.
Productivity Champions: Line-of-business owners and department heads that need to improve the productivity of their teams and customer relationships.
Next gen: Team members, particularly millennials, that expect mobility and ad hoc communication.
Internal Alignment
Alignment between marketing, development and sales teams is absolutely essential for disruptive change. The three profiles enabled each department to head in the same direction. It accelerated our go-to-market, and enabled a superior user experience to be delivered.
R&D created mood boards based on the personas, and built in the features and user experience each segment required.
The marketing team used the profiles for targeted messaging and content and campaign development.
Changing the Sales Mindset Globally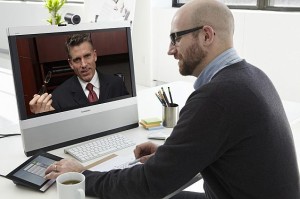 A targeted business decision-maker approach hits the wall if the sales team is not on board. To prepare the sales team we took a multi-pronged approach:
The sales team was trained on the segment messages through role playing.
The sales team was given quick reference cards and other point-of-sale tools.
The head of sales reinforced the need to adapt to business decision-makers.
Key sales people were enlisted to be visible spokespeople and share best practices within sales.
Sales managers were celebrated when they business decision-makers were involved in a purchase.
The Results
Tandberg achieved a 100% increase in revenue over two years and a 7% increase in market share. It would not have been possible without collaboration between development, sales and marketing. Alignment of these key teams enabled the speed to market and unified, targeted approach we needed to move from underdog to leader.
"Jean's marketing and messaging expertise were essential as we turned Tandberg into the industry leader."

Fredrik Halvorsen, CEO of Tandberg (acquired by Cisco), Chairman of Acano (acquired by Cisco)
http://fuelgrowthgroup.com/wp-content/uploads/2016/10/Tandberg_Image_Gallery_-_telepresence-t3-side-view-hires.jpg
2360
3696
Jean Rosauer
http://fuelgrowthgroup.com/wp-content/uploads/2015/03/FGG-Mono-Logo.png
Jean Rosauer
2016-10-31 04:33:26
2016-10-31 04:39:41
Reaching the Line-of-Business Buyer: Growth Best Practice